Sir William Dugdale, 1605 - 1686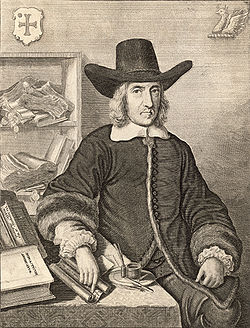 William Dugdale, one of England's best known antiquaries, was born at Shustoke, in Warwickshire, on 12 September 1605, son of John Dugdale, a Lancashire gentleman of modest means who, having spent some years as a tutor at Oxford, married late in life and settled in Warwickshire.
William, his only son, was first tutored by the curate of nearby Nether Whitacre and then, at the age of ten, sent to school in Coventry. At seventeen his father, old and very ill, 'thought fitt to see him marryed', thus debarring the young William from a University education. In 1625, following his father's death, he bought Blyth Hall, in Shustoke, which became the family home.
Dugdale soon became one of a circle of local gentry interested in antiquarian research and the compilation of a history of Warwickshire. His work in this field took him to London and brought him to the notice not only of fellow antiquaries but to members of Charles I's court. In 1639 he was appointed a pursuivant extraordinary, a junior post within the College of Arms, providing him with a modest income which he used to fund his studies in London. The outbreak of the Civil War in 1642 at first disrupted his studies, his affiliation to the College of Arms placing him in the Royalist camp. However, his four-year residence with the Court, at Oxford, until its surrender in June 1646, gave him the opportunity to search the archive collections of the Bodleian Library and the Oxford colleges.
His research focussed on two main topics. Firstly, he joined Roger Dodsworth in his compilation of a history of English religious houses, now known as Monasticon Anglicanum. Dodsworth died in 1654, a year before the publication of the first volume of this monumental work. Two further volumes were published in 1661 and 1673. Dugdale's other project was a history of Warwickshire, his father's adopted county. This, the work for which he is now best known, was published in 1656 under the title The Antiquities of Warwickshire. It was not the first county history to have been written but, in its day, was certainly the best and most detailed, and its accuracy has earned Dugdale a permanent place amongst the country's foremost antiquaries.
Dugdale's other works which can still be profitably consulted today include his History of Saint Paul's Cathedral in London, published in 1658, and The Baronage of England, a two-volume work which appeared in 1675-6.
His official duties as a member of the College of Arms continued to occupy much of his time. He had been created Chester Herald in 1644 and Norroy King of Arms in 1660, involving him in heraldic visitations of ten northern counties during the years 1662-1666. In recognition of his diligence he was appointed Garter King of Arms in 1677. He died on 10 February 1686, in his eighty-first year, and was buried at Shustoke.